Suphannika Spa and Salon
"Suphannika, an idyllic spa and salon paradise"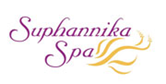 Treatments and facilities:
Suphannika Spa and Salon is situated in a secluded lush corner of Baan Amphawa Resort & Spa. Ten Luxurious suites including couple's suites designed in the indulgence Oriental setting, with steam room and salon facilities are set in the old Rattanakosin architectural building. Our spa menu offers a wide selection of spa treatments: massage therapies, body treatments, facial and beauty services. We emphasize on the use of all-natural herbal ingredients by the well-trained therapists to complete your spa experience.
Signature Treatments:
'Amphawa Heritage' - 90/120 mins
This therapeutic massage specially designed to ease the pain in the neck, shoulder and back area from the office syndrome by combining Thai, Tui Na (Chinese) and relaxing massge techniques to loose the muscle strain and improve its tone. The natural herbal ingredients from Amphawa origin, like pomelo and sea holly leaves, are also incorporated to the massage oil and herbal compress for the health benefits and to complete your journey to Amphawa.
'Suphannika Harmony' - 100/120 mins
This treament offers experiences to the part of East/West synergy. A holistic treatment begins with a warm foot soak, which sooths legs, follow by herbal steam to detoxify the skin. This invigorates your entire body and prepares you for the harmonized Thai and Western aromatherapy massge.

Opening Time :
Mon-Thus 10.00 – 20.00 hrs.
Fri-Sun 10.00 – 22.00 hrs.
The heritage Town of Amphawa
Amphawa enjoys the rich historical and cultural heritage and is the birth place of King Buddhalertla Naphalia (King Rama II) during the 18th century. This water based community benefits from sea, brackish, and fresh water which accommodate the salt pan and fruit orchards.

In 2008, the Amphawa community was awarded the UNESCO Asia Pacific Honorable Mention Award for Culture Heritage Conservation...Read more